According to another except from the book, obtained by US media, Mr Trump used to boast that sleeping with his friends' wives made "life worth living".
"In pursuing a friend's wife, he would try to persuade the wife that her husband was perhaps not what she thought," Wolff quotes a Trump friend as saying.
He would invite the wife to secretly listen on speakerphone to a conversation that Mr Trump would have in his office with her husband, according to the book.
Mr Trump would allegedly engage in sexual banter with the husband in the hope that he might say something indiscreet, asking questions such as: "Do you still like having sex with your wife? How often?"
5. Trump found White House 'scary'
"Trump, in fact, found the White House to be vexing and even a little scary. He retreated to his own bedroom – the first time since the Kennedy White House that a presidential couple had maintained separate rooms. In the first days, he ordered two television screens in addition to the one already there, and a lock on the door, precipitating a brief standoff with the Secret Service, who insisted they have access to the room."
AZ: For much of his adult life, Mr Trump has lived according to his own rules, as a real-estate tycoon whose wealth allowed his every whim or idiosyncrasy to be accommodated. Adjusting to the White House – which Bill Clinton once referred to as the "crown jewel of the federal penitentiary system" and Harry Truman called "the great white jail" – must have been quite a shock.
6. Ivanka hopes to be president
Mr Trump's daughter and her husband Jared Kushner allegedly struck a deal that she might run for president in future, according to Wolff:
"Balancing risk against reward, both Jared and Ivanka decided to accept roles in the West Wing over the advice of almost everyone they knew. It was a joint decision by the couple, and, in some sense, a joint job. Between themselves, the two had made an earnest deal: If sometime in the future the opportunity arose, she'd be the one to run for president. The first woman president, Ivanka entertained, would not be Hillary Clinton; it would be Ivanka Trump. Bannon, who had coined the term 'Jarvanka' that was now in ever greater use in the White House, was horrified when the couple's deal was reported to him."
AZ: The feud between Bannon and "Jarvanka" was no secret, and it certainly wasn't surprising. In a way, the couple represented to Bannon everything he's fighting against – East Coast elitism and entitlement. Yet, thanks to familial ties, they had the president's ear and – this new book claims – harboured dynastic hopes.
7. Ivanka mocks dad's 'comb-over'
The US first daughter poked fun at her father's alleged "scalp-reduction surgery", according to the book.
"She treated her father with a degree of detachment, even irony, going so far as to make fun of his comb-over to others. She often described the mechanics behind it to friends: an absolutely clean pate – a contained island after scalp-reduction -surgery – surrounded by a furry circle of hair around the sides and front, from which all ends are drawn up to meet in the center and then swept back and secured by a stiffening spray. The color, she would point out to comical effect, was from a product called Just for Men – the longer it was left on, the darker it got. Impatience resulted in Trump's orange-blond hair color."
AZ: It wouldn't be particularly surprising if this is one of the anecdotes that Mr Trump finds most irksome. The president is proud of his hair, and once notably let late-night host Jimmy Fallon ruffle it to establish its authenticity. On windy days, Mr Trump usually wears a hat – the origin of the Make America Great Again ball cap – to ensure there are no coiffing malfunctions. The hair is as much a part of the Trump brand as big hotels and gold-plated escalators.
8. White House unsure of priorities
Katie Walsh, the White House deputy chief of staff, asked Mr Kushner, the president's senior adviser, what the administration wanted to achieve.
But according to the book, Mr Kushner did not have an answer.
"'Just give me the three things the president wants to focus on,' she [Katie Walsh] demanded. 'What are the three priorities of this White House?' It was the most basic question imaginable – one that any qualified presidential candidate would have answered long before he took up residence at 1600 Pennsylvania Avenue. Six weeks into Trump's presidency, Kushner was wholly without an answer. 'Yes,' he said to Walsh. 'We should probably have that conversation.'"
AZ: It often takes a new administration a bit of time to find its footing. In Mr Trump's case, the situation was particularly acute. Having campaigned on some clear policy items – strengthened borders, renegotiated trade deals, a sweeping tax cut and Obamacare repeal – prioritising was clearly a challenge. Once in the White House, he allowed Congress to kick off with healthcare reform, and the difficulties achieving that goal haunted the Trump presidency for nearly a year.
9. Trump's admiration for Murdoch
Wolff, who previously wrote a biography of Rupert Murdoch, describes Mr Trump's high regard for the News Corp media titan.
"Rupert Murdoch, who had promised to pay a call on the president-elect, was running late. When some of the guests made a move to leave, an increasingly agitated Trump assured them that Rupert was on his way. 'He's one of the greats, the last of the greats,' Trump said. 'You have to stay to see him.' Not grasping that he was now the most powerful man in the world, Trump was still trying mightily to curry favor with a media mogul who had long disdained him as a charlatan and fool."
AZ: During the campaign, Mr Trump had at times feuded with Murdoch's Fox News – fighting with presenter Megyn Kelly, boycotting the network and skipping a Fox-broadcast primary debate. The president, however, is one of Fox News' biggest fans – and the network has become his greatest advocate since his inauguration.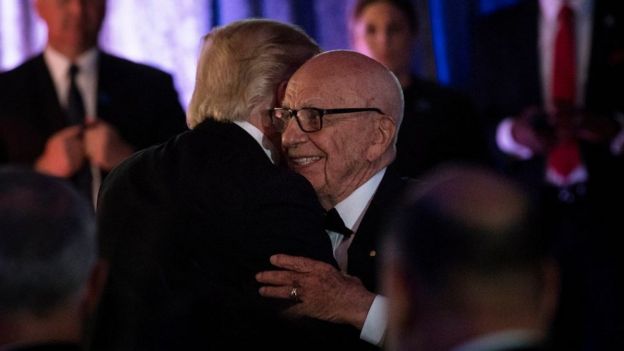 Mr Trump is said to regularly speak with Mr Murdoch on the phone 
10. Murdoch calls Trump 'idiot'
But the admiration was not mutual, according to Wolff's account of a call between Mr Murdoch and Mr Trump about the president's meeting with Silicon Valley executives.
Mr Trump is said to have told Mr Murdoch:
"'These guys really need my help. Obama was not very favorable to them, too much regulation. This is really an opportunity for me to help them.' 'Donald,' said Murdoch, 'for eight years these guys had Obama in their pocket. They practically ran the administration. They don't need your help.'
'Take this H-1B visa issue. They really need these H-1B visas.'Murdoch suggested that taking a liberal approach to H-1B visas, which open America's doors to select immigrants, might be hard to square with his promises to build a wall and close the borders. But Trump seemed unconcerned, assuring Murdoch, 'We'll figure it out.' 'What a f****** idiot,' said Murdoch, shrugging, as he got off the phone."
AZ: There's sometimes been a disconnect between Mr Trump's anti-immigration rhetoric and his action as a businessman, where his companies often relied on immigrant labour. Perhaps the president-elect was reflecting his business sensibilities. Or maybe, in this case, he was simply echoing the opinion of the last group of people who had met with him – a criticism that has been lobbed his way on more than one occasion.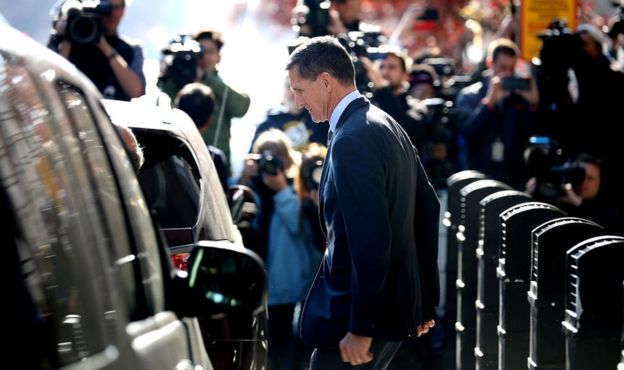 Michael Flynn emerges from a plea hearing in a Washington DC courtroom
11. Flynn knew Russia ties 'a problem'
Former US National Security Adviser Mike Flynn knew that accepting money from Moscow for a speech could come back to haunt him, according to the book.
Wolff writes that before the election Mr Flynn "had been told by friends that it had not been a good idea to take $45,000 from the Russians for a speech. 'Well it would only be a problem if we won,' he assured them."
Mr Flynn has been indicted in the Justice Department special counsel's inquiry.
AZ: Like Paul Manafort, Flynn was one of the members of the Trump campaign's inner circle whose prior affairs were not ordered in a way that would, shall we say, stand up to close legal scrutiny. If Mr Trump had been defeated, that probably wouldn't have mattered. Like the protaganists in the film The Producers, however, their success was their undoing.
Myjoyonline